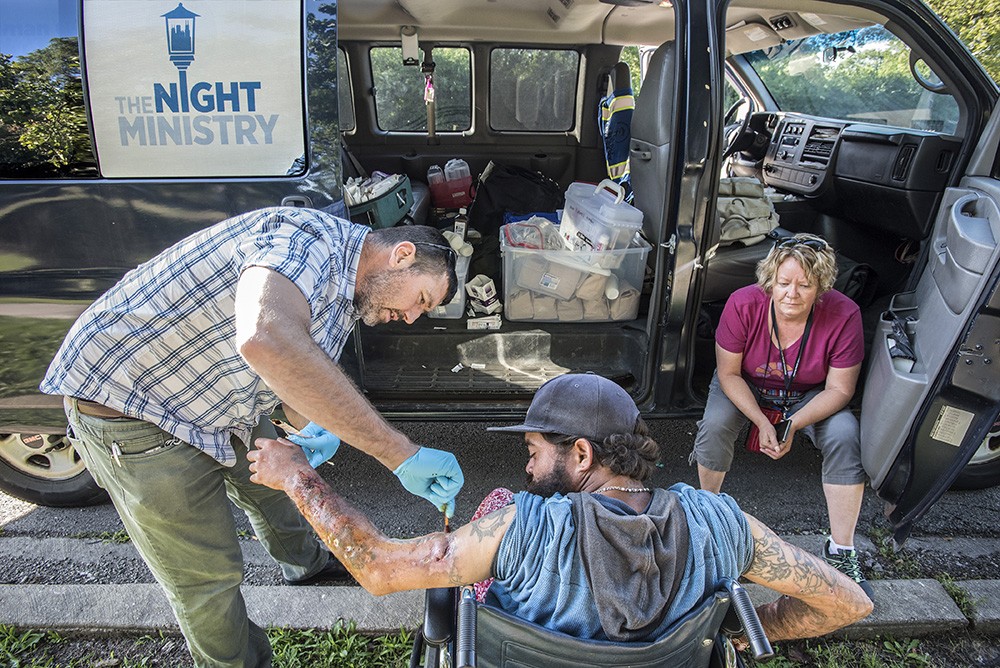 On Friday, September 13, 2019, The Night Ministry's President & CEO, Paul W. Hamann, spoke to medical professionals and supporters of The Night Ministry's mission in a special event with Dr. Jim Withers, Medical Director of Operation Safety Net at Pittsburgh Mercy Health System and a pioneer in the field of street medicine. Below you'll find the text of Hamann's remarks.
Thank you, Dr. Withers. We are grateful for your presence with us this afternoon, as well as for the inspiring influence you have been on our staff who pioneered street medicine work at The Night Ministry.
For 43 years, The Night Ministry has provided housing, health care, and human connection to the homeless here in Chicago. Founded by 18 congregations from various denominations on the North Side who hired one man as the organization's first and only employee for 12 years, we are now a homeless services provider who annually houses more than 500 homeless youth, plus their children, and have more than 50,000 contacts from our Health Outreach Bus that is on the streets seven days a week.
We are excited about the Street Medicine Program, because it incorporates the knowledge that we have gained in the area of street outreach throughout these 43 years and applies it within a new context, while utilizing our skills as mobile health providers.
I am going to begin by providing some context to the work for The Night Ministry's Street Medicine Program by talking about unsheltered homelessness—individuals who are living on the streets or in a place not meant for habitation.
It's hard to get an accurate count of how many Americans who experience homelessness are unsheltered, as opposed to staying in a housing program, with friends or family, or in another type of temporary residence such as a motel or SRO.
The 2018 Homeless Point in Time Count identified 195,000 unsheltered Americans on a single night in January.
In Chicago, 1,400 individuals were counted as unsheltered during the Point in Time Count. This count is taken in the dead of winter, and we know that the number is higher during other times of the year.
I am focusing on unsheltered because the vast majority of clients served by The Night Ministry's Street Medicine Program live outside all or some of the time.
Many of them stay in encampments, which are becoming more prevalent in communities across the country. The National Law Center on Homelessness and Poverty has found that the number of encampments has skyrocketed over the last decade.
What is driving this? There are many factors, but a big one involves the cost of housing. There is a severe shortage of affordable housing in America. In Chicago, for example, there are only approximately two units of affordable housing available for every 3 low income renting households.1
As a result, in our city, half of renting households are cost-burdened, paying more than 30% of their income on rent. This puts people in a precarious position where a health challenge, a job loss, a death in the family, or an unexpected expense can put their housing in jeopardy.
Once somebody is out on the streets, why would they choose to live in an encampment instead of staying in a shelter or being on their own? Encampments can be seen as an alternative to a shelter system that doesn't fit the needs of the people it is intended to serve.
Encampments may address many of the shortcomings of shelters as seen here on this slide, such as rules that require separation from partners or pets or schedules and locations that conflict with daily commitments such as work.
Being part of an encampment can also offer safety and a sense of community. These are important factors to keep in mind when we talk about municipal responses to encampments, which vary across the country.
Here in Chicago, we seem to have policies of both clearance and tolerance, with many encampments swept away while others are allowed to remain, at least tenuously, with tacit support from local officials. While referrals to shelters or services have often been provided during sweeps, I want us to think about whether that is enough. Can you replicate a sense of community by placing someone in a shelter, or even in their own apartment, miles away from the neighborhood they know, and away from the people who are important in their lives? What other supportive structures are needed to help ensure they make a transition to a more stable life and aren't back on the streets again?
Until we have those programs in place in our communities, The Night Ministry is there to not only provide services like health care and practical resources like food, but to build meaningful, supportive relationships to those whom we serve. Human connection has been something we've been doing as an organization since we began 43 years ago, and it's an essential part of our mission. I will give you a better idea of what that looks like when I discuss how our Street Medicine program works in a minute.
We began our Street Medicine pilot project in 2015 to bring support directly to individuals we were not able to reach through our Health Outreach Bus Program.
Staff filled up backpacks with supplies and began visiting encampments across the city.
The members of The Night Ministry staff traveled to Pittsburgh to see Dr. Jim Withers's Operation Safety Net in action and brought back strategies for Chicago.
Street Medicine became a permanent part of our Outreach and Health Ministry Program last year. It received the Innovation Award from the Illinois Association of Free and Charitable Clinics in 2017 and, just yesterday, the Anne M. Davis Mobile Health Award from the VNA Foundation.
Today, we are hitting the streets of Chicago six to seven days a week. This summer we expanded to two Street Medicine Teams, meaning two shifts—morning and afternoon—on most days.
The teams are regularly visiting more than 30 sites across the city, many of them encampments, offering low-threshold services that don't require clients to fill out paperwork or show IDs or proof of insurance.
What impact are we having?
Last year, the Street Medicine Program made 3,436 outreach contacts. Our health care professionals provided 312 health assessments, treated 197 health conditions that otherwise would have gone uncared for, and prevented 120 trips to the emergency room, saving $111,000 in ER costs.
Street Medicine's focus is on treating immediate concerns and, when possible, linking patients with a primary medical home, where they can get connected to ongoing care, mental health services, and resources like housing. Making those links happen, however, is a big challenge. Our clients face multiple obstacles in getting to these appointments, from limited access to transportation to the disruptions that come with living on the streets.
In addition, it's a challenge for us to determine which agencies are available to provide this further care and which ones have appointments or beds available. Because we are working in so many neighborhoods, we build connections with providers across the city.
Some of the conditions we are regularly treating include endocarditis, abscess, sepsis and acute opioid overdose. We also provide basic management of chronic conditions like high blood pressure, diabetes, and asthma; skin and foot care; pain relief; and cold and flu support in the winter months.
We are able to provide some medication directly to our clients. We do this because many of those whom we serve, whether they have insurance or not, face obstacles in obtaining medications. They may not be able to afford them and transportation to a pharmacy is a barrier.
It's worth mentioning here how difficult it can be to provide effective treatment when people do not have a permanent place to live. The physical and psychological stress of living out in the elements, in often unsanitary conditions, and not being able to get proper rest and nutrition, among other factors, simply make it harder for people to get better. It is also a challenge for us in trying to follow up with patients if they have moved on to other locations.
Health care isn't the only resource we are offering. Here you can see the other services our clients are accessing through Street Medicine.

Our case managers help clients obtain IDs, sign up for benefits, and connect to housing resources. This last service is extremely difficult to complete given the dire lack of housing solutions. In August, Chicago's Homeless Management Information System, which is designed to link the city's homeless population with housing, reported there were only 875 available units of permanent housing for every 9,382 individuals or households experiencing homelessness in the city.2
I am going to share some information about the individuals our Street Medicine Program serves that comes from surveys we recently conducted.
Street Medicine clients are universally unhoused or staying in a shelter, with the majority staying in tents or makeshift shelters.
One third have no health insurance, although those that do face many challenges in getting care. As mentioned earlier, many report it is difficult to access transportation to get to appointments, and, when they do seek care, they encounter medical professionals who make them feel judged for their circumstances. It's no surprise, then, that most clients are most likely not to receive any medical care other than what Street Medicine provides.

The quote you see here, from a Street Medicine client who was interviewed for our survey, underscores the vital role our program is playing as the only consistent health care source in most of these folks lives.
Most Street Medicine clients have a severe observable hardship such as an open wound, bodily injury like bruising or broken bones, or hygiene issues such as unwashed clothes. Many of them exhibit coexisting hardships.
Use of narcotics is not a question we asked directly on our survey, although our team members will tell you it is a condition seen among many of their clients, and we do provide clean needles as a harm reduction practice. Opioid addiction creates its own set of barriers to accessing health care. Clients who are using opioids who might have gone into the hospital to be cared for another condition often end up leaving. Many have told us that some hospitals undertreat the dope sickness, or withdrawal, that will inevitably occur during the hospital stay, which can be extremely uncomfortable and even fatal.

As this quote gathered from a Street Medicine client indicates, obtaining a life of greater stability is a journey. The Night Ministry's Street Medicine Program is there to support clients as they take these steps. And the survey data tells us that our focus on human connection allows us to do that.
In interviews, many spoke to the importance of having the Street Medicine staff visit consistently and providing services without judgement, and how taking advantage of the help the team offers has helped them make improvements in their lives.
Clients also report the services they received from Street Medicine make them feel safer. This includes physical and emotional safety. For example, every client who receives clean needles tell us the service makes them feel safer. Other clients say that the team offering services on a consistent basis makes them feel like someone would be able to check up on them if something happened to them. In other words, feeling safe because somebody knows where they are.
These relationships of affirmation and acceptance, no matter the individual's life journey, have always been the cornerstone of our work at The Night Ministry.
But, it's not just relationships with clients that our Street Medicine Team builds.
Team members are making connections with providers at traditional health care centers. This serves a few purposes:
Team members act as advocates for clients who are brought to the emergency room or hospital for care, so health care professionals at these locations are aware of the challenges a client experiencing homelessness faces that differ from patients who do have housing.
And hospital staff will contact the Street Medicine Team when a homeless patient is being released so we can do follow-up when they are back out on the streets.
We are also helping facilitate communication among the other street medicine programs working on the streets of Chicago, with the goal of fostering better outcomes among the patients we have in common. I believe a number of representatives from these programs are here this afternoon. Thank you for coming.
Earlier I mentioned that we had expanded our program to two teams, allowing us to cover more territory and see clients more often.
In response to clients asking for assistance in stopping or reducing drug consumption, we've hired a substance use advocate, whose responsibility to is help clients explore the options available to them, including rehab services.
One of the most exciting developments in our Street Medicine Program is our new van, just delivered a few weeks ago. The interior of the vehicle is designed with space flexible enough to accommodate private consultations between patients and our health care providers or clients and our case managers. The van has a medical refrigerator, enhanced storage space for supplies, and exterior lighting to help illuminate dark places such as Lower Wacker Drive. It's a game changer for the program.
We are also excited that Street Medicine, our overnight emergency shelter, The Crib, our Health Outreach Bus, and our administrative offices will soon have a new home at 1735 North. Ashland. This renovation project, which is underway as we speak, will enable our Health Outreach Programs to have easier access to the supplies they need to do their work, provide staff with more efficient access to vehicles, and enable us to better store supplies and donated items for the programs.The site will also enable us to provide better quality housing services to the more than 300 youth every year who makes use of The Crib's award-winning, LGBTQ-competent services to the youth whom it serves.
We are also excited that the $8.7 million campaign to pay for this project and to increase our endowment is more than 70% funded. If you are interested in supporting it, please contact Vice President of Development & External Relations, at 773-506-6023 or This email address is being protected from spambots. You need JavaScript enabled to view it..
This quote comes from a Street Medicine client. I think it speaks to the vital role our team is playing in the lives of so many of Chicago's forgotten residents. I feel The Night Ministry can say the same about you. Whether you are a Street Medicine Team member or volunteer, a supporter of our mission, or a professional from another organization providing invaluable services like ours, I thank you.
1.Institute for Housing Studies at DePaul University. 2019 State of Rental Housing in Cook County. (2019). https://www.housingstudies.org/releases/state-rental-2019/
2. All Chicago. Chicago's Dashboard to End Homelessness. https://allchicago.org/dashboard-to-end-homelessness.