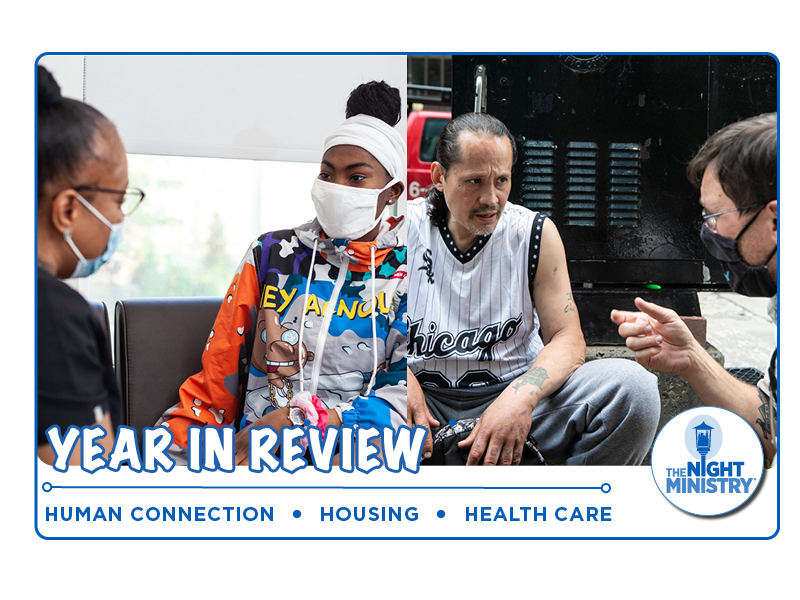 As the year comes to a close, we are looking back at memorable milestones and accomplishments at The Night Ministry in 2022.
Parenting with Purpose Settles into Its New Home
Parenting with Purpose provides long-term, supportive housing for up to eight pregnant and parenting young mothers and their children. The private bedrooms for each resident and their families received cozy makeovers this year. And the program's shared kitchen, dining and living areas were renovated to make them more family friendly. Read more about the bedroom makeovers.
Photo: A child in a renovated bedroom at the Parenting with Purpose program.

Health Outreach Bus Adds Roseland Stop
The Health Outreach Bus began bringing medical care, food and supportive services to residents of the Far South Side neighborhood of Roseland in 2022. The number of community members served regularly in Roseland increased steadily over the year as word spread about the Bus in the neighborhood. In 2023, the Bus will expand its presence in Roseland to twice-weekly visits.
Photo: Lead Outreach Minister Juan Roca (right) provides a meal to a Health Outreach Bus visitor in Roseland.

Celebrating Prom and Graduations at Youth Programs
A number of young people served by our Youth Housing Programs attended their high school proms this past year. And several also claimed their hard-earned high school diplomas.
"Our clients are proud of themselves, and we are proud of them too!" said Felitha Jones-Patterson, Assistant Director of Early Intervention Services.
Photo: On-Call Supervisor Charnika Williams (left) and Assistant Director of Early Intervention Services Felitha Jones-Patterson (right) send a resident of the Youth Housing Programs off to prom.

Partnerships Strengthen Services on the CTA
By collaborating with partners, The Night Ministry increased access to services for unhoused individuals who seek shelter on public transit. Loyola Street Medicine, Legal Aid Chicago and ShowerUp are just a few of the organizations that regularly join The Night Ministry during outreach on the CTA to provide medical care, legal assistance, showers and more. Read more about our CTA outreach in the Chicago Tribune.
Photo: An outreach vehicle from The Night Ministry at the CTA Blue Line station in Forest Park.

Good Neighbor Guide
The Night Ministry published a Good Neighbor Guide to stop the perpetuation of myths about homelessness and to help prepare community members to engage their unhoused neighbors with respect, kindness and solidarity. Access the Good Neighbor Guide.
New Health Outreach Bus
As the year came to a close, we welcomed the first of two brand-new Health Outreach Buses. The custom-built vehicles will replace our current Bus, which has been on the streets for nearly a decade.

The new Buses are built to better withstand the wear and tear of Chicago's roadways and weather. They also have private rooms for medical consultation and treatment and enhanced space for our case managers to meet one-on-one with clients.
Stabilizing Young People in Apartments

Through the Youth Flexible Housing Pool, The Night Ministry supports young adults who had been unhoused but are now living in their own apartments. With our help, nearly all of the 75 young people served by us through the program remained housed this past year.

Meanwhile, our new Pathways Transitional Living Program provided stable apartment-living for four young people throughout the year, in addition to the dormitory style housing the program offers for up to eight youth in our North Lawndale residence.



Photo: The members of The Night Ministry's Youth Flexible Housing Pool team, who help unhoused young people stabilize in apartments.



Becoming an Anti-Racist Organization
Guided by our Racial Equity Task Force, The Night Ministry progressed on its commitment to becoming an anti-racist organization this year. Work is underway on achieving key goals in the areas of our accountability to clients and communities of color, shared power and decision making within the organization, pay equity and human resources policies, philanthropic engagement strategies and cultural competency. Learn more about our commitment to anti-racism and the work we have done so far.
Making progress on becoming an anti-racist organization is also embedded in the strategic plan we launched this year, Advancing Equity and Expanding Impact.

Saving Lives with Harm Reduction

Our harm reduction efforts, which include providing the overdose-reversing drug naloxone, sterile syringes and links to treatment, have been saving the lives of clients who use drugs and those with substance use disorder.

By sharing information and resources with the Chicago Department of Public Health, Chicago Recovery Alliance and the West Side Opioid Taskforce, we saw a decrease in the overall number of drug overdoses on Chicago's West Side during most of 2022.

In addition, our Substance Use Specialist Yoela Tepper has been providing clients with kits that rapidly test the contents of drugs available on the streets. The kits identify substances such as the extremely potent opioid fentanyl, which is often a factor in overdoses.


Read more about harm reduction at The Night Ministry.

Photo: Substance Use Specialist Yoela Tepper prepares a harm reduction kit for clients of The Night Ministry.

Promoting Health among Youth with Rush University
The Night Ministry teamed up with medical students from Rush University to mount a health fair for residents of our Youth Housing Programs. Fair attendees learned about navigating the health care and health insurance system, sexual and reproductive health and the intersection of health and race.